ACCREDITATIONS & CERTIFICATIONS
Uncompromising on quality. Advancing public health.
DNA LAB is an accredited laboratory for MS ISO 15189:2014 in Medical Testing and is currently in the pursuit of CAP (College of American Pathologists) accreditation. DNA LAB is committed in providing a high-quality laboratory service to all customers. As a result of this commitment, we have developed a program to continuously assess the quality of our laboratory service.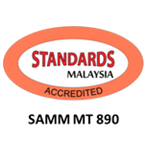 Our ISO 15189 accreditation will be applied to the following areas:
Biochemistry

Molecular Diagnostics
We also participate in external proficiency testing programs such as:
UK NEQAS (United Kingdom National External Quality Assessment Service) EQA Schemes for 

Maternal Serum Screening: First Trimester Screening 

Placenta Growth Factor: Pre-eclampsia Screening 

GenQA (Genomics Quality Assessment) EQA Programme for

Molecular Rapid Aneuploidy: ChromosomesCheck

™

Non-invasive prenatal testing (NIPT): NICC® (Non-Invasive ChromosomesCheck) 

QCMD (Quality Control for Molecular Diagnostics) EQA Programme for 

HPV DNA : HPV DNA Genotyping 

Sexually Transmitted Infections: FemCheck 

CAP (College of American Pathologists) Proficiency Testing for 

Parentage/Relationship Testing : DNA Paternity Test 

Haemoglobinopathies: ThalaCheck® 

Minerva Biolabs Proficiency Testing for 

Mycoplasma Testing: Mycoplasma Test 

Aglae Association Proficiency Testing for 

Endotoxin in waters intended for medical use: Endotoxin Test